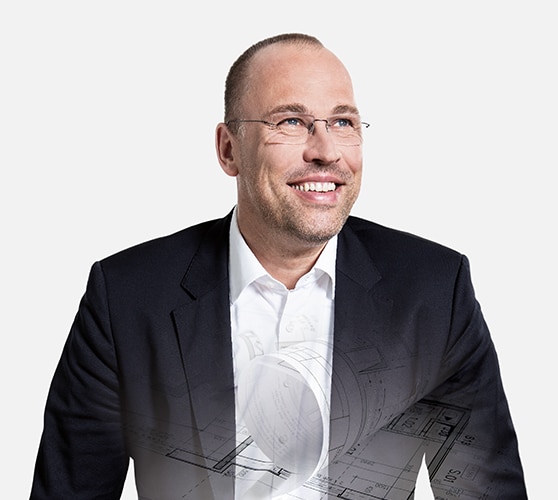 Real Estate Projects
Plans are
our speciality.
No matter the scale

Prof. Jan Kehrberg, lawyer
GSK Stockmann is a leading one-stop for legal advice regarding real estate project developments. Our lawyers in this sector are well-connected and cover all relevant fields of law.
Your partner through each and every phase of project development.
For years now, the market for real estate developments has been booming across all of Germany. Naturally, the demand for each of the components involved in such projects has risen at the same rate. These include:
Greenfield and brownfield sites
Planning and construction services
Financing and investments
Advisory services
People and companies who work in the real estate industry face the challenge of mastering an increasingly complex market situation. On the one hand, we see record turnovers juxtaposed with political instability (Brexit, economic sanctions). As a result, market players naturally seek safe investment opportunities and new niches for building projects (co-living, co-working, data
centres). On the other hand, market players face a shortage of suitable land, bottlenecks in the planning and construction industries, rising prices for materials and labour in the building industry, stagnating net yields in the most sought-after locations, rising demands for smart infrastructures in district development (ECS, connectivity, sharing communities) and a decrease in the number of approvals granted for planning permission.
Walking the tightrope of profits, the environment, social aspects, digitalisation and governance has never been trickier. Our team can lend you support in all the different phases of your project development: from analysing the location and preparing development strategies to financing and establishing joint ventures. Demand, risk and cost management are also part of our repertoire, besides contracting, guarantees, dispute resolution and tax optimisation. While well acquainted with all relevant market players from the public and the private sector, we also have specialists on our team who like to delve into the latest trends. The reliable yet innovative legal advice we offer is based on a detailed understanding of the market. Our claim: Your goals are our benchmark. Your perspective.
Your hands are full?
Good to know we have everything covered.

Markets in focus
If you want to make the most of every opportunity for growth across the board, top-notch support is a crucial ingredient. Our bundled expertise in all sectors and markets is the answer.
Your contacts.
Understanding your perspective. And finding the best solution.
That is our mission (from left to right):

Key areas of advice
The right experts for every challenge, the perfect team for every client: we focus on the elements that drive your success.